Archive for the 'Upcoming' Category
Better Late than never.  FIngers finally thawed out from the cold.. At least its not DFL
The Weather did not look promising for the 566 trail for IWSH3, It was frosty cold and snowing the two days prior.  The RAs received much encouragement from the pack to ensure they completed their "favors" for mother nature.  And behold she was satisfied, saturday turned out to be all sunshine and a bearable temperature.  The Frosty Nectar Gods bestowed upon us Coors Light at the 7Day.  All was set for a good day.The trail was short, but none were to argue as it lessened the time for more beer.
Circle lasted longer than the trail by 3 fold.
LMT now has her own personal translator for any audience she addresses.
There were a crap ton of guamies there, i think we scared one of them, way to go guys.   Tanuki Pukie paid a well overdue visit to his naming kennel, and he drank for it.
Barry received his 69 milestone, and Texas Asshole Massacre received popped his Virgin Hare Cherry with DTSB.  I think he is still picking the ice out.
LIke the trail this is shorty….
See ya at 568 and bring virgins
CB
Ok late as shit but beer with me here.  Summery recap of Hash #558 of IWSH3.
We all met up at that place near that park in Iwakuni, you know the one with the slide.
It was a  "Lone Ranger" hare as 00PS prelayed an epic trail through the streets of Iwakuni. In attendance was in no particular order OOPS, Barry-an-Twat-net, BC, Church Quake, Cuntinental Breakfast, DAC, DTSB, Gound and Pound, Hung Solo, I cum For Chum, I would Kill Your Dog, Purple Vein, Queen LaQuifa, Safe Word, Sloppy Fourths,  GO GO, NN Iyo, NN Al, NN Ken, NN Yumiko and joining us was Texas Asshole Massacre and 2 Virgins- NN Jeremiah and NN Sarah, exciting I know.
Ok so whilst "00" was "laying his trail" he some how manage to be snared while getting out of his car  (can you say auto-haring?)  to write beer near by Missed Her Bullseye and Cuntinental Breakfast.  He had some excuse about cops, keys, start blah blah blah.  So recap,  Prelay, with a start wicheyway, auto hash snare.  But there was beer at finish, so that's a win.
And we ended up at that park near the place in Iwakuni, you know, the one with the slide.
Circle was fanominal:
There were a slew of down downs but below is all I remember, sue me I've drank and slept since then.  Maybe I should bring a pad and pencil.
Church Quake parked her chair in the middle of circle bc she owed the hash dearly.  Return/depart x2, Hashus Interuptus, Celebrity, guilty by association etc.
"I will Kill Your Dog" ended up taking his own scenic tour of Iwakuni and still never found finish.  Ended up catching a ride in one of the multiple car runs.
For the second hash in a row no one could pitch a tune to save their life so we ended up with most of the pack joinin us in da circle
DAC's favorite word was frequently used "FLABONGO".  It made multiple cameos this week for a spectrum of down downs.  If I recall Hung Solo had to do a Double Funnel Flabongo for Celebrity.  He is more famous Christmas.
We had some major milestones this time.  One hasher got named and another earned his White Snake Hash name. NN AL rose as "Diner Defecator" and Missed Her Bullseye is now known in the Kuni as "WHOA- Will Hump Oversized Ass"  They both endured the frosty air with the frosty beer, not sure either one remembers their name due to the violent shaking from the chill.  Cuntinental Breakfast and safe word received their 25 "un tie-ons
It was our first frosty hash of the season, thanks be to the snack miester for bringing warm holiday themed nom noms for circle.
First stab at scribery… it is a train wreck I know. I'll pay… I know.
Until next time,  Let bygones be bygones and you can get your hash on, you and yo momma.
~Cuntinental B
Re-visting the scene of the crime (Nash Hash2012). IWSH3 headed back up the mountains for an epic weekend.
http://www.hashspace.com/video/hash-528
Video diary of the excellent 2013 Hanami Hash. Tanks to all for setting up and carrying on.
http://www.hashspace.com/video/hanami-hash2
Check out the awesome video done by our own Barry Ann Twot Net…
http://www.hashspace.com/video/iwakuni-hash-536
It was the best of times, it was the worst of times. And somewhere in between was Hash no. 488
When: April 7,  2012
Trail: http://connect.garmin.com/activity/167841922
Hares: 3 Dogs Fucking, Purple Penis Eater
The Pack: Lollipop Geisha, Barry An-twot-nette, Beef Curtains, P on Me, Deep Throat Steam Boat, Jessica Strap It, Big Yak Pussy Attack, Daddy's Alarm Cock, 00 Pig Sticker, Ground and Pound, Sloppy Fourths, Wake Me-up B4 you Go-Go, Cum For Chum, Bloody Eeyore, Got A Slit Hashing, Purple Vein, Bus Buster, NN-Adam (for now), NN-Peter (for now) and other No Namers which I will refrain from naming in order to protect their identity in this story and I just dont' know all of their names.
The *un: We started behind Onoura train station.  Luckily 3 Dogs had supplied the nearby 7-11 some beer and Chu-hi for us early worms.  But eventually the hares showed up with the free beer.  After they were blessed and on their way, Tiny led the group in some Hash aerobics to get everyone stretched out and ready.  When we started walking, Sloppy, GASH and Tiny were in the front.  And as soon as they crossed a set of train tracks while still walking, the guard rails closed.  This was a clever tactic used by the hares to slow the pack down.  But luckily 3 of us made is across before the gates closed.  The three of us took the eagle trail at the split.   Soon after we were out of the neighborhood we ran by a graveyard and an intersection.  GASH went to the right and called on-on.  So I followed, and Cum for Chum and Ground and Pound followed as well.  But when I caught up to GASH as he was crossing some twisted metal, I noticed a YBF written.  I quickly pointed it out and headed the other way.  This is where the fun starts.  The trail went up. Up some more.  And up again.  Followed by more up.  On trail we saw a deer fornicating with another deer.  GASH and myself slowly tiptoed by it as the RA prayed for 'no coitus interuptus'.  After watching the deer we hit a beer stop where the four of us gladly took a slight break from all that uppityness.  And after going up again, we saw some rope.  The last time 3 Dogs put rope on a trail, it was through some hellacious shiggy and a mountain.  So I knew this was a bad sign.  But eventually the trail leveled out which led to a great scenic overview of the ocean and the city. Most of this eagle trail was through some pretty good shiggy, and great scenic views.  I tip my hat off to 3 Dogs for picking such a great trail.  Thank goodness the trail finally started going down like DTSB on a ferry.   After going through miles of shiggy, the trail abruptly ended at this out of the way rest area in the woods.
Once circle started, the usual shenanigans took place.  As in, nobody paid attention to BC.  It was a warm day, the beer was flowing, and nobody was listening.  How typical…haha.  But everyone paid attention long enough for some important mile stones. 3 Dogs got his 350th headband.  Holy cow he's been here a while! Congratulations!! I don't think any recurring hashers are close to that. Go-Go got her 175th and appropriatley had 3 Dogs tie her on.  Purple Vein got her 25th.  3 great Hashers with 3 great milestones!!!  Not only did we have those milestones, we had not one, but TWO namings.  But as we were sending the No Namers away one decided he wanted to stay.  (Like I said earlier, I am leaving names out to protect him from shame forever…hehehehe) So I think Barry gave him the hint to get the fuck away.  So as we're doing our naming stuff, he comes back looking for beer.  Well, we all yelled that if he wanted beer he should have been naked.  So in his drunken glee he stripped down right there, proudly showing everyone his twig and berries turning around like a model on the catwalk.  DTSB made the comment " I don't think we should make them get naked to get beers!"  lol….  So after we finally got him to get dressed, Barry threw a six pack his way and coerced him to go back down the hill. Again.  So eventually we got back to the namings…. NN Peter is now known as Iji Waru Mama.  But as us gaijin who aren't proficient in Japanese, I like to say 'your mama'.  But Iji Waru Mama will be something I'll have to learn I guess.  NN Adam is now Hung Solo thanks to a small error by Tiny.  Just be lucky I didn't write one of the other names up there like "I beat Tiny".  But thanks to his boot camp drill instructors, he gave us a couple of names which we gladly picked.
So after all this crazyness, a few of us went to an Onsen down the road to wash the dirtyness, flour and beer off of us.  And after the onsen, some went to Hiroshima ( I think) to help celebrate and say goodbye to a fellow hasher.  Big Yak Pussy Attack will be leaving us here in a couple of days.  So fart winds and swallowing seas to you Big Yak.  Hope you find a kennel that isn't as great as us.  But close enough for ya to have a good time in the land of Gooey Ducks.  And after googleing geoduck (Gooey Duck) I know why she likes them so much.
We also had Hash Erections nominations.  BC will be sending an email out with who was nominated and instructions on how to vote.  With that being said, I write this Hashtrash recap with much sadness in my heart as it is probably my last one as the official scribe….. boo hooo….sniff sniff.  Unfortunately I'm leaving in July and won't be around to fulfill any of the required lengths of mismanagement. But I'm sure you haven't heard the last of me……  On On fellow Hashers!!!
–
On-On
+++>
Tiny Two Stroke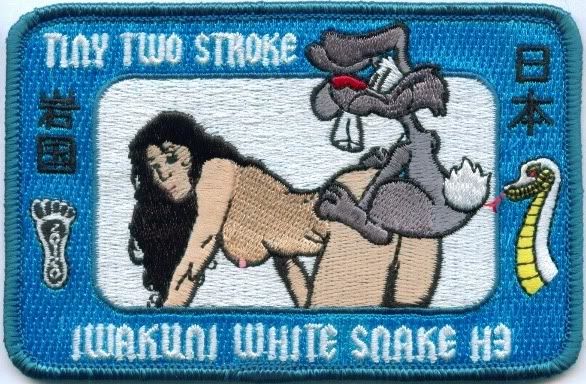 When: April 7,  2012
Start: Kintai Bridge Parking lot
Hares: Tiny Two Stroke, Got A Slit Hashing
The Pack: Look at my pictures.  There was quite a few and I can't remember them all.  Although Grizzley Had Ems, and Bloody Eeyore made an unexpected surprise visit.
BC set up his grill nice and early to get a good spot.  And of course since his grill was gaijin size, ooohhs and aahhhs were heard all over the Kintai area.  So impressed was one Japanese girl, she got Hashnapped and tricked into running trail.  The weather almost didn't want to cooperate with some light drizzles, clouds, and plenty of wind.  But GASH and Tiny were ready.  Knowing that the trail would go up hill to the castle area, AND Hasslecock was going to try to snare them, this would be a daunting task.  So off they went after PPE blessed them and the trail.  Along the way there was easter eggs on trail, little wind up bunnies, a Hare that was caught in a cage, and the best of all a great YBF.  Hasslecock and the other FRB's blew right by the whichy way which would of led them up there.  But since they didn't mark which way they went, some other runners behind them got caught in the trap.  Namely Gitmo Pimpo,LMT and NN Felipe.  NN Felipe was in front of the little group, and when he got to the YBF he yelled down to the others "What does YBF mean?" Not believing him, Gitmo and LMT checked it and yes, it was a YBF but with a Happy Easter message added.  So back down the hill and up the hill on true trail.  The trail led to the cement path that goes to the castle and back down into the park.  Eventually leading back to start.
Back at start, BC had the grill primed and ready with food.  Japanese people were walking by asking to buy some food, but BC a true hasher only would give them food if they gave him beer or sake.  In circle the most notable event was when BC set his sake down.  Someone took it and hid it.  BC yelled and pranced around asking where it was.  Someone set it back.  BC picked it up, and put it on the grill to warm it up.  But when he drank it, instead of sake, it was water.  Thanks Gitmo.  This circle brought quite a few people out.  Some virgins, some returning Hashers and Stagefright said goodbye as he is embarking on a new adventure.  Thank you brother hasher and hope to see ya in the states.
Remember, next Hash is the nominations for the Hash erections coming up later in the month.
Hold on, DTSB is going to answer the door, and I think that
–
On-On
+++>
Tiny Two Stroke

When: March 31, 2012
Start: Driving Academy/baseball field
Trail: http://connect.garmin.com/activity/163179371
Hares: Tiny Two Stroke, Beef Curtains, Got A Slit Hashing
The Pack: Love Me Tender, Sloppy Fourths, Wake Me Up B4 You Go-Go,
Barry An-twot-nette (and his dog Rex), Queen Laqueefa, 3 Dogs Fucking
(With Argos), 7 Finger Fantasy, Purple Vein, Deep Throat Steam Boat,
Weiner by a Hair, Gitmo Pimpo, NN-Jen, NN-Joe, NN-Adam, NN-Kanako,
NN-Felipe
The *un:  "If you Hash….they will cum…"  Being that the original
Hanami Hash was cancelled and moved, I had a dream.  In that dream G.
appeared to me and spoke. "If you Hash, they will cum…"  So I had a
bright idea of doing a pickup Hash. I contacted the GM and he said as
long as enough people were down, it could happen.  So with that being
said, I think the turnout was great and hope we can do more!
For anyone unfamiliar with a pick up Hash, the original hare gets a
five minute head start, after which the rest of the pack may begin to
chase.  If the Hare gets caught, the person who caught the Hare is the
new Hare.  He gets a five minute lead and if he gets caught the next
person is the Hare.  So forth and so on.
I get my five minute head start.  I take off down a path, under
some railroad tracks, and into a neighborhood where I turn back
towards the starting area but along a different road where I wouldn't
be seen.  So there I was (no shit) about 7 or 8 minutes into the *un
and who do I see running down the road towards me? BC, and he has this
big shit eating grin on his face.  His zenning ways have finally paid
off after so many miscues.  He was probably due.  I give him the
flour, tell him where the beer stops are and off he goes.  And
wouldn't you know it, after being gone for so long, GASH eventually
caught BC.  GASH's skills still intact? Or is BC's skills slipping?
At finish, NN-Felipe asks where the water is and of course I point
to the Holy Down Down Cooler testing to see if he was taught
correctly.  Of course he wasn't and he proceded to grab a drink from
it.  He got to drink from the Hashit for that one.  NN-Jen left early
(as usual).  Which was probably a good thing because she was leaving
true trail arrows on trail.  Something which I had mentioned about NOT
doing while she was giving chalk talk to NN-Joe.  She owes us many
drinks.   Someone said head and we proceeded to sing about it.  Except
Go-Go who was drooling over herself.  NN-Kanako got welcomed with the
traditional Ol' McDonald song.  But when we got to the whale part,
after we had spewed out our liquid, she proceeded to spit back!  How
awesome.  She chased some of us around spitting and eventually caught
GASH and spit all down his neck.  First in was LMT, while last in was
Go-Go.  NN-Kanako got called in for dropping and spilling some beer.
LMT had poured out some Chu-hi which I called her in for alcohol
abuse.  3 Dogs had new shoes and for his defense he asked for a
lawyer.  Somehow I got to be his lawyer (I called him in for the shoes
too), and that was a bad idea.  Of course he was guilty and the lawyer
had to drink from the new shoes too.  LMT called Sloppy in for being
mean to her.  Sloppy was given a lawyer (me again) and after a tough
case he was guilty.  I wouldn't ask Tiny to be anyone's lawyer
anymore.  Weiner and GASH were called in for Hashus Interuptus.  We
were welcomed with a celebrity Hasher as GASH was in a base paper.
LMT tried to call in all those who had blood on trail LAST trail.  She
even mentioned 7 Finger being on her period last week to which 7
Finger said "What the fuck!!"…. hahahaha  Ok, gotta run now.  Have
another Hashtrash to send out about this weekends Hanami Hangover
Easter run.  Which is after a pub crawl the night prior!!! What a
crazy week this will be.
P.S.  did anyone lose a black hat? Or a clipboard?  You can drink to
get them back.
–
On-On
+++>
Tiny Two Stroke
*un 485
When: March 24, 2012
Start/Finish:  Koshojiyama Green Park
Hares: Hasslecock, Tiny Two Stroke
Pack: Bus Buster, Big Yak Pussy Attack, 7 Finger Fantasy, Ground & Pound, Lollipop Geisha, Deep Throat Steam Boat, Purple Vein, Red White & Horny, Gitmo Pimpo, NN Joe, Middle School Masturbater, NN Kate, Love Me Tender, Beef Curtains, Wake Me Up B4 You Go-Go, Sloppy Fourths, Guaca Cocka Mole, NN Adam, Queen LaQueefa, NN Jen
What a nice blustery day.  Hasslecock and Tiny both found this park while scouting separately and it was fate that brought them together on this most important Hash day.  BC was showing off in his new car.  Not only did he blow by the pack up van on the way to start, he was going so fast he blew by start where 7 Finger Fantasy was already waiting.  3 Dogs even came by to start to introduce some family.   Go-Go started the blessing nicely by trying to make biscuits on Tiny's head.  Using half of his flour to bless the Hares, Go-Go got repaid by Tiny.  Go-Go was hiding Tiny's Hare bag, and after Tiny finally found her he decided to bless her as well, but most of the flour went on her face.  Sorry…  After Bus Buster chased Tiny trying to hit him again the Hares finally got on their way.  The path led down to a nice little water fall.  And Tiny took a nice little spill after laying the scenic view mark.  Did anyone notice the big pile of flour right after the water fall?  Yeah, half the flour just about fell out when Tiny had to use his cat like reflexes to keep from busting his ass.  But he did have blood on trail on his left hand, right elbow, left leg, and right knee.  I think I had every major body part covered. The trail eventually led to a small bridge where there was a time capsule and a well that was used to make charcoal.  The trail was quite scenic going through woods most of the time. The first beer stop was by a small dam.   The second beer stop (for some people. pay attention to this) was by an overlook which had a great view of the sea and a golf course.  The eagle trail had a spot that is used by those para-glide-sail things.
I have to give an honorable mention here to NN-Jen.  After I got to finish and put the beer there, I ran back down the road to start.  As I was coming upon the B vehicle, I saw someone start to take off on the trail.  All I saw was a black running outfit, black hair.  7 Finger Fantasy I thought? Why was she starting so late? I honked the horn, but she had already gone around the bend.  Going back to start, where everyone was coming in, the FRB's and eventually some chauncers.  But even before all the chauncers got to finish I look up on trail and I see NN-Jen come running down to finish. WTF?!  She had started over an hour late, ran trail by herself (which was only her second run), and still found finish.  Awesome.  She did take the turkey trail though to catch up a bit, plus I think she was a little scared of what the Hares had in store.  But either way, great job.  I smell a future Hare in the works.  At finish she kept saying, "Who had the pink chalk?"  She took me to get the beer stops, and I asked her what was up with the pink chalk?  She asks me, "what does an arrow with 3 lines on top of it mean, because I followed every one of those."  LMFAO.  She now knows what that means.  And may G. bless her little heart for she found all the YBF's.  There was one she found twice.  At the bridge where the time capsule was, she turns right to go up trail.  YBF.  Ok back the other way, where after a water crossing there was another intersection.  She turns right.  Right into the previous YBF she had just hit.  Hasslecock and I high fived each other after we heard that.  Ok, enough about that little pooper.
At circle, some time was given out to Guac for it was her birthday.  She turned a young 69 years old.  Bus Buster had assembled another fine bag of gifts from her own store.  I think if you go over Bus' house, you will see less and less stuff.  We had all signed a card for her but of course we signed it in english.  Since Guac's english isn't that good she had LMT read the card for her.  Maybe we didn't use good english because I think LMT had a hard time reading the card too.   The food Guac brought was pretty gosh darn good.  It could have been better, but no one could get the camping stove to light to warm the mexican food.  Although after eating her brownies, I felt a little wierd…..
Tiny got called into the circle for some small infraction and decided to get donations from everyone into the hashit.  But as he is going around, Guac decides to use her Bailey's she just received.  So as the Bailey's is sitting in the Hashit, it starts to curdle.  So it was more like a cement mixer.  So finally after BC gets done talking, Tiny got to chew his drink.  I think I am done taking donations from Guac. Or Bailey's.
Barry brought his dog with him on the *un.  I think Argos has someone to play with now.  And what a well trained dog it was.  It wasn't barking, chewing water bottles or shaking water off on anyone.  I think Barry's dog will be a good role model for Argos.  Maybe they can even mate one day.
Tiny also received his SuperHare patch for doing his 10th Hare.  Ahhh… it seems like only yesterday I was leading the pack on a check back 50.  But I would like to say it is an honor getting to Hare with this pack.  I have so much fun Haring and *unning.  Thank you all for putting up with my trails and I hope I get to Hare as much as I can before I have to leave here in July…. :'(
But enough of this sappy crap.  This was an awesome Hash day.  EXCEPT, that some chauncers did not get to have both their beer stops as promised in the Hare lies.  Nani the fuck?!  As BC comes rolling down the hill after another Zen adventure, he has a beer stop cooler in his hand.  He slings it on the ground and proclaims, " I did y'all a favor!"  And has a look on his face like we should thank him.  Then some chauncers come a little later after him and ask, "Hey, where was the second beer stop? We saw ice, we looked around, and found no beer!"  No beer!!!???  Our beer stop stolen? Our trail messed with?  And the beer stop was on such a beautiful scenic stop.  The chauncers had been denied and lied to.   What to do?  Who should be punished?  Hmmmm…. Let's look at the evidence.  BC took the cooler.  Enough evidence. Case closed.  Perfect time to nominate him for the Hashit.  Not only because of the crime, but for some reason the pack had in for BC.  Barry and his dog wouldn't be quiet when BC was talking.  Gitmo Pimpo offered BC a cigar to smoke after BC begged for one.  Except to smoke this cigar BC would have to have gotten on his knees.  Either way, the stars were aligned and so I took opportunity and ran with it.  Guac was even kind enough to offer a cap full of Bailey's as a donation.  I kind of miss the Hashit though.  I have had it for what seems like almost 5-6 months total. (from both times added up)  But I don't miss it enough to want it back.  It is a pain running with that thing through some of Sloppy's shiggy.  Plus on this Hash as I was running I heard some whistles, so I had to hold the jingle jangle things to keep quiet.  I promise to be on my best Hash behavior.
Where was I… Ok, I think that is enough for now.  Pictures are on my Hashspace page, and the attached image is the trail.
When: January 1, 2012 ( New Years Day Hangover Hash)
Start: A parking lot across the street from a cemetery. (Near the
Iwakuni Sports Park)
Hares: Wake Me Up B4 you Go-Go, Sloppy Fourths
Pack: Stagefright, Horny Creeper, Barry An-twot-nette, Ploughed Mary,
Bunter, IBM, Beef Curtains, Tiny Two Stroke, Deep Throat Steam Boat,
Purple Vein, Gaijin Gong Wild, NN-Miyo
In the beginning, Go-Go was on the street selling tricks, or showing
everyone where start was. (Maybe both?) And as soon as she came back
to start, figuring the rest of the pack would be able to find start,
BC drove right by where she was standing. But after a quick
turnaround he made it there ok. The Hares had some Bloody Marias (V8
and Tequila) waiting for us to help anyone with a hangover. The
weather wasn't as cold as it could be, so Tiny decided to wear his
kilt; as BC and Ploughed Mary were wearing shorts. BC blessed the
Hares and after they left, he also led the Hash aerobics with Father
Abraham. After the 12 & 3 minute wait, the pack was on their way. I
have included a link at the end that should show the eagle trail.
There was a nice little dirt slide where BC slid first, Horny Creepy
fell/slid, and TTS fell/slid all the way into Horny Creeper helping
her slide even more. Not sure if it was intentional or not sliding
into her. The trail was a good one. Shiggy, hills, bamboo, running
through farmers fields, all the classic makings of a good trail. At
one point, BC did what he does best (zen) and made his own trail.
TTS, Horny Creeper (and I think Ploughed Mary somewhere behind) were
the true trail runners. There was one point where BC, TTS, and Horny
Creeper were searching for trail at an intersection, and Horny Creeper
found trail and we did not hear her yell "ON-ON". So that left us
searching for trail that much longer. She did say later on at her
gorilla down down that she did yell it. But it wasn't until BC and
TTS went the way she went and saw her running way down the trail, did
we hear On-On. She did wave to us. Somewhere on trail BC got a nice
little gash (GASH?) on his leg that got infected and led to an
emergency amputation. He finished the rest of the trail hopping on
one leg. But I'm sure it didn't hurt as much as 3 Dogs teeth did at
the Bonekai.
At finish there was the usual punishments. I can't remember who was
first/last in (Stagefright and Ploughed Mary?), but BC nerd named
himself at start, and had blood on trail. Gaijin got called in for
something and forgot to take his beanie off so had to drink again.
And you would think someone would learn their lesson the first time.
But Gaijin got called in again later, and once again left his beanie
on. Not sure if he has learned his lesson or not. Keep a watch on
him at the next Hash please. DTSB rejoined us from the states where
she Hashed with the newly formed Black Beard H3 in Jacksonville, NC.
We had some visiting Hashers, Horny Creeper and Bunter. I think Horny
Creeper is from Samurai H3, and Bunter from Kobe. AND we have a new
edition to our wonderful pack. Welcome IBM ( I've Been Masturbating)
He has hashed in Okinawa (sucks) before and the man has brought him
from San Diego to Iwakuni. Ploughed Mary got a headband for having her
6th run with us. She likes her name and decided that she'll keep it
rather than be renamed in the cold. But that didn't stop Go-Go from
pouring the ice filled cup down her spandex pants. Which helped keep
the ice in. She was dancing around while the GM was taking his time
thanking her, talking about her, and picking out a song. I'm sure by
the time she got to the Flabongo it was nice and numb down below.
New paragraph here means something important right? Of course. I
need to discuss the passing of the Hashit. You mean TTS doesn't have
it anymore? I couldn't have it forever could I? I had a nomination
for the Hashit. I presented my case to the pack, named the accused,
and rested my case. The RA asked if there was any other nominations
for the Hashit. BC was nominated for not attending the Bonekai but
his case was quickly dismissed by the pack. Which left just Tiny Two
Stroke and Deep Throat Steam Boat. Would Tiny keep it or would it be
passed on? The crime she was accused of is something I can not speak
of as it was a horrendous crime. I shudder everytime I think about it
so I dare not mention it again. But after a close vote by yelling,
she is now the proud owner of the Hashit. Luckily for me, Bus Buster
wasn't here as her loud and proud lungs would have surely overpowered
anyone else. So shocked was she about being awarded the Hashit, that
she forgot to pass out the patches she brought back from her trip to
North Carolina. Or it could've been the shock of all the mixings
inside the Hashit that she had to drink. By the way, I have a
protective order against her as her looks of death upon me have me
scared for my life. So she is not allowed to Hash within 50 feet of
me until I get a hug from her. I only used the Hashit once to unclog
a toilet and assured her I have washed it since then. But I am sure
she will carry on the Hashit tradition with pride as only a few
'lucky' Hashers can say they got to be part of this unique tradition.
http://connect.garmin.com/activity/137900980#.TwAdVNRFRpo.email
–
On-On
+++>
Tiny Two Stroke